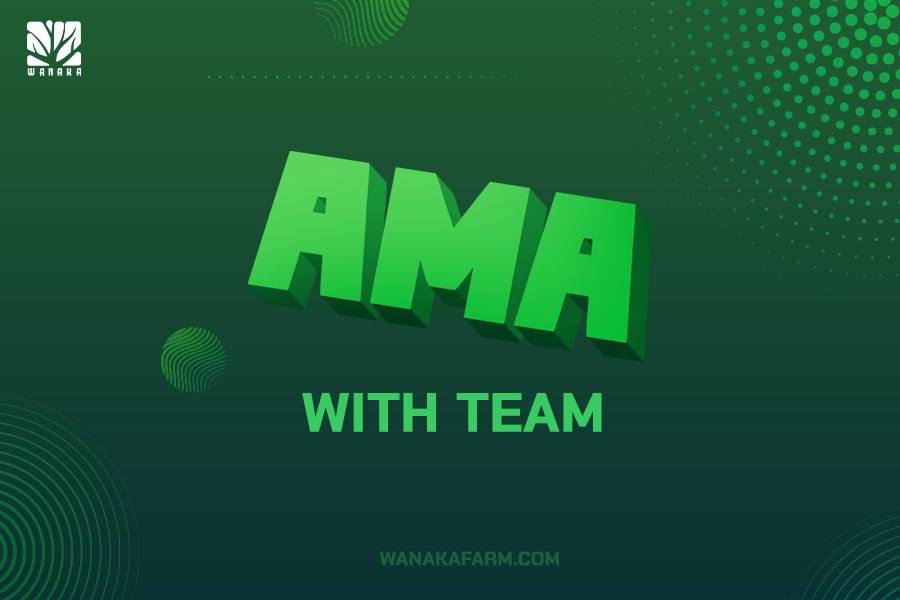 Hi guys, nice to meet you again. Prepare the question you want. We'll start in 10 minutes

Admin | Kim Chi
Hello guys~

Content lead | Farmer
Hello guys, long time to see.

CTO | Thuan Nguyen
Hello everyone

Dev | Tien Luong
Hello there.

I would like to ask about your RoadMap for this year, as I understand first 3/4 year you are focusing on bug fixing – so why there was no updates so far? Its april and we still have christmas theme… And discord seems bit forgoten, im speaking about a week long waiting for responses from admin side.

Other question is about new Client release – Can we be sure with migration to decentraland we wont loose anything that we have in this client? (pets, farms)

Stormery
→Content lead | Farmer: About game updates, we will not change the functions except some changes in quest configuration when needed. For the supporting on Discord, you can be assure that we listen all of your voices. but sometimes it's better to tag us.
Pardon me? we don't have plan with Decentraland~
→CTO | Thuan Nguyen: We guarantee all existing assets (pet, farms, …) will be migrate to the new client.
Hello team, my question is about the pet autoplanting system. Right now uses a straight-forward path from a land´s corner, which doesn´t allow proper farm decoration and visual structure. Can you upgrade autoplanting so we can choose on which slots should it plant each crop/animal (maybe recycling the grid map from rental system?)? That way we could mantain good looking farms with autoplanting instead of a plain line of planted crops/animals. Thanks in advance

Fryvan96
→Dev | Tien Luong: That is a good idea for autoplan
just hoping for new big update just like what jangmin of pvu did.. it moon overnight

lolopopz
Hello . I am confused about changes in the priority of planting plants and animals. my pet plants sequentially e.g. a goat and then a cow, corn. I can't manually change it to plant a cow first, then a goat, and finally a cow. It used to be possible, now it's gone.

Remember I believe in this project as a long term investment and I buy WANA every month. Check out this great analysis on crypto – https://www.youtube.com/watch?v=YfjvsAhg5Y8&ab_channel=TheBitcoinExpress

Mactom
→Content lead | Farmer: I know you as a long time and loyal player in Germany. Many thanks Mactom
→Mactom: Thanks. In fact, I'm from Poland and I miss the connection to the Polish language group on Wanaka Farm discord 🙂
→Content lead | Farmer: Oh sorry. It may locates near to German so I was confused~
Maybe you all should know we are mapping all the databases and APIs to prepare for the re-factoring the backend. Choosing the right solution to implement before re-developing is top priority now

Content lead | Farmer
Yup, its something we trying to get but like i mentioned forum seems abadoned

Stormery
Guys, do what it takes to keep the project going.

Please remember about the possibilities of artificial intelligence and maybe it would be worth a look to apply artificial intelligence in Wanaka Farm There are many possibilities.

Mactom
→Content lead | Farmer: AI is a good trend, but i think we should enhance more use case of players interactions as planed
→Mactom: yes, it is allowed to increase the user's interaction with the game
→Dev | Tien Luong: Yeah I understand. We will make more content in the future
doubt – its a whole game changing mechanic, they dont have currently ppl to get updates with current engine.

Stormery
→lolopopz: i agree, i think there number 1 issue is lack of people (developers) and 2nd is budget .
With the current dau of only 2k based on the last month chat, but the server still lags, and their timeframe for fixing that is until 4th quarter of this year, so maybe they currently lacks of programmers right now… just my observation
→Content lead | Farmer: it's a tough challenge to halt all the so-so updates and start doing this. Please understand for us. It's not hard to paint more features now but it's nonsense if the game keeps lagging and we cannot peacefully keep it that way.
→lolopopz: don't worry that's not a rant…
There definitely should be some small activites besides just watering and planting to do.

But with current state – when we can expect update with fixes we r mentioning on forum?

Stormery
I heard someone is FUDing about team token vesting on Telegram. Actually I don't know where does that information came from, but you know if we want to cash out, we already did it earlier, not now

Content lead | Farmer
I'm sure you're doing the right thing by following your plan.

Mactom
→Dev | Tien Luong: Yeah. We are sticking to the plan
____________________________________________________________________
For the rest unanswered and flooded questions, please visit:
https://discord.com/channels/869509196935200768/920671801393152010
From 27 Mar 2022, Listen to AMA Content on our Me