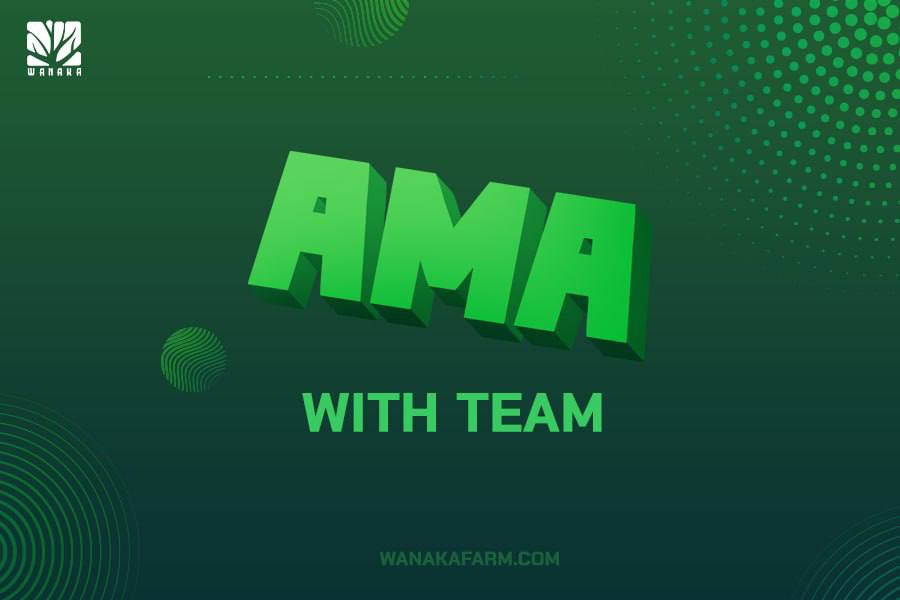 Hello Farmers, the chat-with-team will open soon in 3 minutes. We hope you enjoy last Valentine well

I got some questions in public and DMs regarding 2023 roadmap. We will try to release by the end of this Feb honestly

For the list of @TorukMakto , @Dev | Tien Luong will answer later in this room, after AMA

Content lead | Farmer
→Dev | Tien Luong: About your questions, now we are concentrating on improving backend section. That is our big task in long term. Besides that, we are planing re-design all sections of game in contents such as: wanatrade, factory, pet,… everything. So please do not worry about some problems now, It will be changed in the future. Thank you so much.
→ANns BaBa: Any new update in near future? Wana is stable now thats the positive point for us in term of long run. And Whats marketing strategy thats the main factor we missing now?
After the new update everything is good and fine and all farmers are now happy and satisfied except some dishes prices. I hope devs will increase the use case of that particular dishes to increase the demand of that particular dishes.
→Content lead | Farmer: I guess it is Product first, Market second and then we rise as a 2-year-old project
→Fawad: Yeah but we gradually need new farmers to warmup in game Wanatrade
→ANns BaBa: Agreed great things take time keep up the good work
→Fawad: Yeah i hope @Content lead | Farmer will start a marketing campaign in March
@Content lead | Farmer @Dev | Tien Luong Thank you for your work on this project
Marketing plan need right moment to make the best effect or we will waste the money. Now we are in bear market. I do not think it is the best moment to push marketing plan. Now is the best moment to develope the product to prepare for the bull market.

Dev | Tien Luong
→Content lead | Farmer: Yeah right
→ANns BaBa: Can you share currently on which part of game team is working and when next update?
→Dev | Tien Luong: As I said before, now we are concentrating on improving backend-server.
Will it be possible to increase the size of the pool in the future? some lands have 16 spaces… they are going to implement being able to see how many water spaces a land has in the market before buying it

JJFUXION
→Content lead | Farmer: It is in the plan but when we upgrade the infra, everything will be easier for all game features
And will the product have some funny new mechanics "soon"? I mean, we have already been more than a year feeding a pet to work automatically. Too much fun for a year, dont you think?

Leyton
→Dev | Tien Luong: Yeah, game is for entertainment, it needs fun, sure.
When we have something new?

hieulvhp
→Content lead | Farmer: We will update the roadmap and let you guys see clearer the plan for infrastructure and future actions accordingly.
We have pending game features and new land development in term of 'something new' you mean. But the time meanwhile is not seem to be-very short
Is @Art lead | 3K still with us? We have not seen him for a while.

WanakaFarmer
→Content lead | Farmer: He is but there is no works for art now.
I think the game is now quite good now. Just I hope quick update to have filter in breed seed in pet or extra inventory to store 8* harvest item. I play on mobile and hard to see 8* item to avoid breeding it.

superman2019
→Content lead | Farmer: It is said from last meeting, we will try to change after all.
→WanakaFarmer: Agree. Every thing seems fine now. WanakaFarm is definitely way ahead of the pack. What concerns people most now is the next big move of the team. It's up to the team to find the right time to let us know, but I feel comfortable with their overall strategy. Build first and reap the dividends later.
→Content lead | Farmer: It is right about the real upgrade behind the scene to keep our ship bigger and better. You will see soon
Today please let me close the chat earlier than the said time
Hope you all the best-s
———————————————————————————————————————————————————–
For the rest unanswered and flooded questions, please visit:
https://discord.com/channels/869509196935200768/920671801393152010
From 27 Mar 2022, Listen to AMA Content on our Me