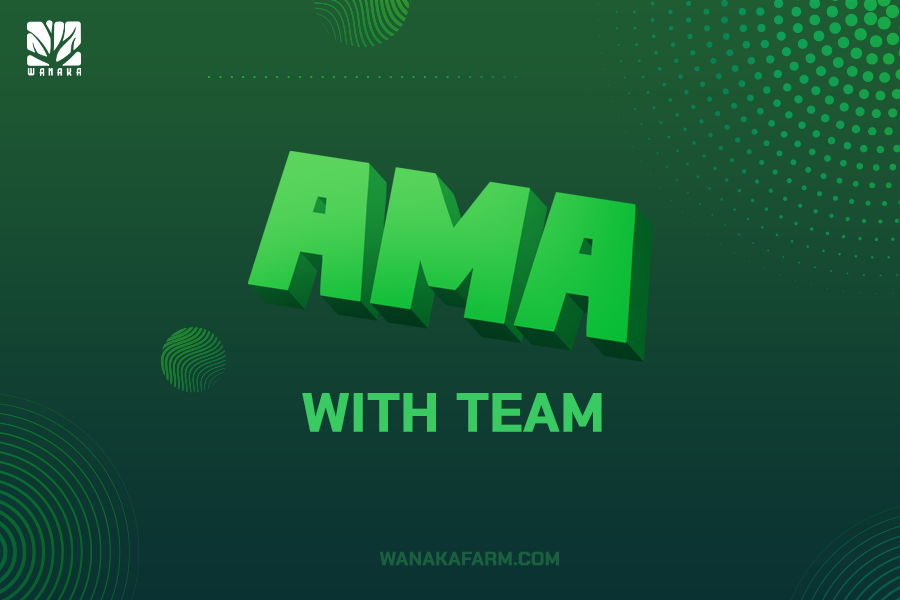 Hola guys Hope you had a good week

Marketing | Leo Ngo

Rents will be update this week?

T.P.A | Ozaru
–> CPO | Sang Nguyen: sorry, maybe it's a bit late, we're trying to release rental system in game and our dapp (Marketplace) at the same time. if all goes well i think it will be before April

–> MisterLemur: COuld you please specify a bit more about this Dapp you mentioned above please? Is it a kind of upgrade of the current 2 marketplaces or something else?
–> Dev | Hieu Nguyen: current marketplaces
–> CPO | Sang Nguyen : it's an upgrade of current marketplace
On which platform you have more players (Mobile, PC)? and which is your priority?

SpiRiTs
–> Marketing | Leo Ngo: I don't think there priority for which platform as long as people playing
–> CPO | Sang Nguyen: On which platform you have more players (Mobile, PC)? => i think mobile
which is your priority? => both of them
–> CTO | Thuan Nguyen: Our servers will scale up when the number of players increases.
u/Marketing | Leo Ngo u/CEO | Truong Tran u/CPO | Sang Nguyen The liquidity of the Wai token at 55k is of great concern. When will the Wanaka Team carry out Wai Token Buyback and Burn?

the shadown
–> Marketing | Leo Ngo: It's one of our concerns, don't worry, we are considering about it
–> the shadown: u/Marketing | Leo Ngo u/CPO | Sang Nguyen What happened to the roadmap? One thing is renting land and another thing is scholarships.
–> Marketing | Leo Ngo: imo, pretty much same thing. Right?
Hi. First of all, you are doing an incredible job (sneakpeaks are making some of us dream haha). Keep doing It like this. Any news of coming scheudle? Thanks a lot!

Julian88
–> Marketing | Leo Ngo: Thank you, keep supporting our dev and art team 🙏🏻

Hi! Team, What things will definitely be available in March Thank you team! To do list (March) – Land for rent – Get point from staking – DAO Governance

Anhnt
–> Marketing | Leo Ngo: Working on it, already got the draft of points and dao staking. Will be done once ready
hello friends of WanakaFarm, 15 days ago I told you that you should remove the rewards of the missions to stop a possible uncontrolled inflation in the future as has happened in a certain famous game. But for this they must balance the items that people bought to do the missions, that is where they should add the maintenance of the land with said products, such as each block of land asking for a different item to be able to keep the land healthy and without this your crop can go bad as in real life. This would give a healthier and more balanced dynamism in the economy. So if new tokens are not going to continue to be created, how to do with what is being burned, then they should set a maximum number of wais and from there create a circular economy where everything that is burned re-enters the economy through events, competition or seasonal rankings, this would create an economy without inflation and the price would stay healthy. u/CEO | Truong Tran u/CPO | Sang Nguyen u/CTO | Thuan Nguyen u/Marketing | Leo Ngo

mubent860
–> CTO | Thuan Nguyen: Yes we known and the team has reviewed and will have some solutions in the next time.
–> CPO | Sang Nguyen: sorry, not ignore , but your question is really a big one, as I said before changing the economy will require more in-game features. Let's talk about creating risk in the growing process (rainstorms, pests, or whatever), that's not available yet, and if we decide to do that, it will take time. Besides, how to balance it so that it does not create objections in the community is also something to think about.
but anyway thank you for your input, we are still looking into the economic issues and will make adjustments in the near future

Hello, any news for this week? When will forest land or new pets be sold?

Attica
–> CPO | Sang Nguyen: we wanted it to be different so I think forest land will need more time to develop,
New pets will be added soon
–> Attica: Great !! Thank you u/Art lead | 3K It's nice to read how the game is going to evolve.
–> T.P.A | Ozaru: Yes… we need news… please its sunday in pascua islands
Those of us who have a high level of our land, or have several lands, need more space in the inventory. It's urgent. Why doesn't your capacity increase as you level up?

Monsterjaci
–> CPO | Sang Nguyen: 1. We've looked into it, but there are some other plans that need priority so it's temporarily in the queue. 2. Trying before end of March (sorry about late )
–> Monsterjaci: It is a priority to increase inventory a little. For example, I won't spend more wai to level up because I don't fit the items in my inventory.
u/Art lead | 3K hello great work you are doing, i was wondering if it possible to make the weather on the farm synchronized with the real weather on each country, to have rain when it's rainy outside or snowing, thunders… and also once the multiverse is out and go to see other's farm we can feel the actual weather there. I don't know if it a good idea 📷

Ahmed-Itachi
–> Art lead | 3K : About how the weather will directly affect the quality of the product, we had an idea for it. But it's too early for me to give details to you
–> CPO | Sang Nguyen: haha nice idea, hope there is not a hail or a storm somewhere 😆
–> Art lead | 3K: Shall we give Pet players the weather forecast? That will help players prepare before storm coming.haha
— Today at 10:19 PM
1. how long might your fund need to last for work? 2. in the future, what will you do for stable fund?

dinhtruong
–> CTO | Thuan Nguyen: Enough to develop the project, Maybe we will raise more fund in the near future.
wanaka could have an achievement system with no token rewards?

BreaDanwater
–> CPO | Sang Nguyen : ya, i want too. I thought about it at the beginning, but it will be more suitable when the game has more features
PepePower price in the marketplace has increase by 50% over the pass two weeks. Will you introducing events in the future like double yield of of certain items created in the factory to lower the price and encourage farmer to create more of the items?

EeLieEars
–> CPO | Sang Nguyen : noted thanks 👍
When can we expect the next update? Can you add an option to list more than 1 item at a time on wanatrade?

Zhaitanhhh
–> CPO | Sang Nguyen: thinking about packing tool 😄
–> Zhaitanhhh: I mean, sure. If that works. dont know if it has to be a brand new feature, though. It could work like when selecting animals from the factory which is already in the game. All im saying is when you click sale then it takes you to your inventory and you select for example all the cows you want to sell and pick 1 price. Then click sell and all those cows will take a spot on any open wanatrade slots at the price you put earlier.If it has to be another feature then sure? But wanatrade is mostly good as is, it's just that part when selling is really time consuming and for no reason.
–> Scarecrow Collector: This is a great idea, we can have a bundle of cabbages or boxes of apples, etc
Hello team hope you guys have a wonderful weekend! There are two questions I would like to ask 1. do you have a timeline for the pets PVP? What will be the format of the PVP? If you guys have a chance please take a look of illuvium. If we have sth similar or a tactic game, that will be very awesome. We need to lure more real gamers to try our awesome game. 2. Can you tell us more about the Wana town? Here is sth I would like to suggest from our last update: 1. can we combine the "recover 1 energy" pet food to "recover 100 energy"pet food? 2. The pet's energy items are getting way too expensive, and it is benefit the default land owner to making it and sell it to the market. Shall we consider to change the formula to craft (e.g. fish soup + salad, or other items)?

Kenneth123123
–> CPO | Sang Nguyen: 1. do you have a timeline for the pets PVP? What will be the format of the PVP? If you guys have a chance please take a look of illuvium. If we have sth similar or a tactic game, that will be very awesome. We need to lure more real gamers to try our awesome game.
=> We're testing a few ideas, I hope it goes well, illuvium right? I'll take a look 😉
Can you tell us more about the Wana town?
=> like a town, where you can find your soul mate, i hope
anw thank for your suggest, noted
u/Marketing | Leo Ngo When will the Marketing campaign begin as such? Cakoin was removed from the team and the marketing remains the same. There is no aggressive marketing campaign. To raise this game, new investors are needed to inject liquidity into the pool

the shadown
–> Marketing | Leo Ngo: We're still recruiting. It's been mixed up and We will need more Human Resources for marketing dept
Hello. Consider the option that the order in which the pets plant can be selected.

pepeguess82
–> CPO | Sang Nguyen: sure
THIS IS THE 4TH TIME I WRITE THE SAME u/CPO | Sang Nguyen u/CTO | Thuan Nguyen u/Art lead | 3K PLEASE ANSWER Hello, I know that you don't want to increase the capacity of the inventory I have a suggestion. Now we are paying more than 60000 WAI to level up the land from level 9 to 14, and 145000 WAI from level 14 to 19. My proposal is: Until level 9 -> 400 items inventory From level 10 to 14 -> 500 items From level 15 to 19 -> 600 items When we harvest 88 items at level 19 we don't have enough space for them. We are paying a lot of WAI for increasing only 4 slots at each level. Please take into consideration this suggestion. Thanks

idarrib
–> CPO | Sang Nguyen : bro i saw it and noted. sorry but if you saw my chat above you will see we have a plan for it
there's just a few tasks we're prioritizing, Please be patient and also very sorry to keep you waiting
We urgently need new missions every day. The items are worth less because of their low demand!!! u/CPO | Sang Nguyen u/Art lead | 3K u/Marketing | Leo Ngo

TheBunnyRod
–> CPO | Sang Nguyen: got it
My opinion is that land owners should be the priority. We have level 15 for a long time and no good use for those items. No reason to grow besides for pets. We ask for more inventory. We ask for new missions. We ask for a lot of stuff but everything for a long time only benefits the DL users. Why can we not buy pet power in the shop. Only depend on the DL users to make them and set the price. I have 7 pets and have stopped using them and went back to making salads.

Funjunkman
–> CPO | Sang Nguyen: Land owners will have
Thank you all Have a nice day 📷
For the rest unanswered and flooded questions, please visit: https://discord.com/channels/869509196935200768/920671801393152010