Success is a journey, not a destination. The doing is often more important than the outcome.

Arthur Ashe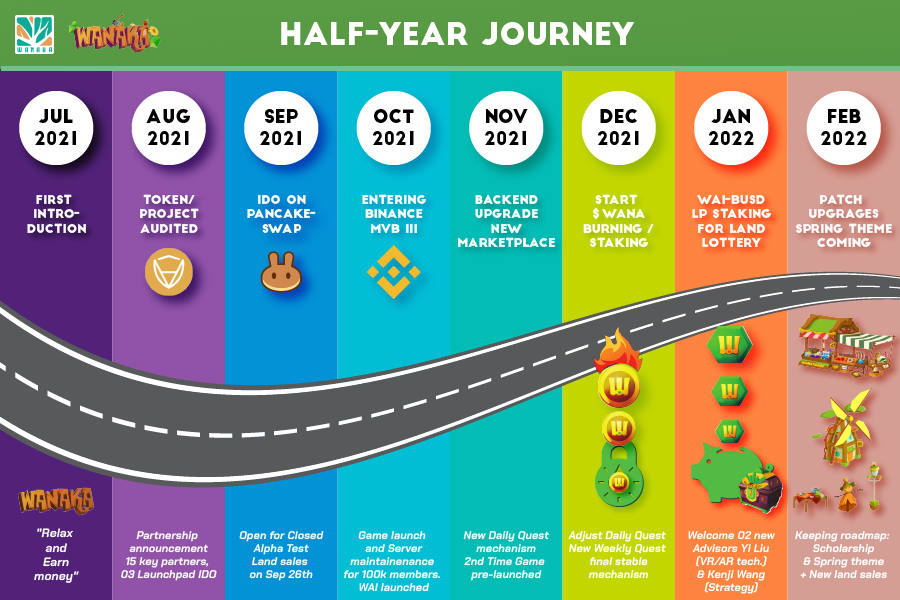 ❤️️❤️️❤️️ Dear Our Beloved WANAKA Farmers, ❤️️❤️️❤️️
?? Let's take a look back at the more than half year Journey we've been through, before continuing Our path into 2022, which will focus more on Gameplay and the Community within.
?? Through many stages of game development changes, including Theme Events like Halloween, or Christmas, Reward Mechanisms, Evolution of Pet Lines in the game… We are not saying these are the great successes of the project, but really our efforts for the community of players as well as our love for WANAKA Farm project is huge.
?? Despite the game's unresolved limitations, we believe that the community is still supportive, as evidenced by the fact that WANAKA Farm daily has more than 60,000 active players and is still growing. WANAKA Farm team confidently says that We are currently one of the few Games in the GameFi field with complete Gameplay, and officially smoothly Operational after a period of maintenance and infrastructure upgrades.
?? In the future, We will always stick to the Roadmap announced to Investors and Players, as well as promote Communication improvements and build a stronger Community. We know that the GameFi market in particular and Cryptocurrency in general have undergone many difficult fluctuations in the past time, but it can still be seen that the number of $WANA holders still has a great faith for a Long journey that we have set.
?? We would like to say a Big thank you to the Community of Players and Investors who have always stood by us. WANAKA Farm will make Big changes in 2022 and give everyone what is worth their time and investment.
Love you all and Best Regards,
❤️️❤️️❤️️ WANAKA Farm Development Team ❤️️❤️️❤️️
Wanaka is more concerned about game play development than the value of their token…

many see this as NEGATIVE. but in all honesty, ANY game that focuses their effort in their TOKEN and token value, as opposed to the game itself and its features, progression and fun factor is NGMI.

WANAKA is doing the RIGHT thing now, much like most up and coming triple A games that will launch in the blockchain. they're focusing on GAME PLAY and accessibility of web3 game to mainstream audiences. even the great axie who lost its way during the second half of 2021 (shilling earnings instead of developing their boring game) is now back on track focusing again on GAME PLAY with origin and land. WANAKA has its head in the right place, and if you invested in this, just keep playing and hang on. WAGMI.

i would personally advice anyone to stay the hell away from ANY game that just shills its token value and quick ROI. avoid these projects like the plague (unless you're a whale who'll have early access, then go flip away. know the risks though), and invest in those that have a LONG TERM development plan for the GAME.

Yonzo Bik – WANAKA Farm TG Group member
That is the point. I have never said that DEVs are perfect, but one of the things that has impressed me the most was their attitude in admitting their mistakes and taking responsibility.

In almost all the other projects that I was involved in, the DEVs controlled the economy and when it fell they blamed the community and left with all the money.

Here I see responsible DEVs, professionals focused on game development who do not control the economy. I like that. And controlling the FUD has been one of the best measures they have taken.

Mr. Tamagotchi – WANAKA Farm TG Group member