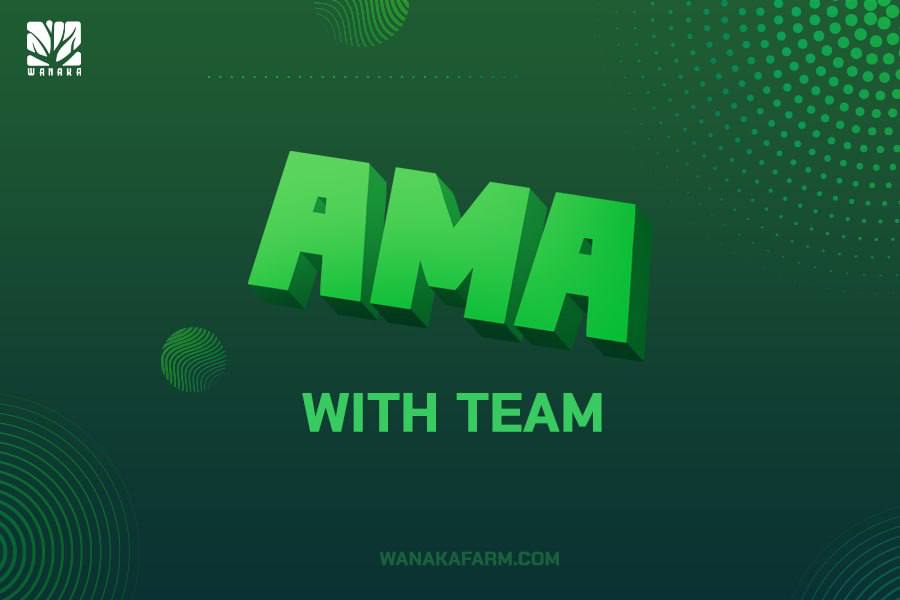 Hello Farmers

Today's topic: Your thoughts after reading the blog about update 1.1.10

Let's start

Admin | Kim Chi
Hello

Dev | Tien Luong
Hi guys

Art lead | 3K
➡0908849885: Long time no leak
➡Art lead | 3K: What things you want me to show
➡Fawad: Multiplayer
➡Repticesor: Next products, Next theme, Next Buildings?
➡Attica: Next buildings please¡¡
➡0908849885: Anything positive haha
Hello devs! Why dont you add more payment methods to buy wana or wai. For example by credit card?

In game. I mean

Bantxa
Hello all dear farmers and devs.

The update is really very good and positive for the economy of the game.

Fawad
Hello team, greetings to everyone, I really came just to say hello because I am setting the table to eat, with this I mean that in my opinion Sunday is a difficult day for many to be at the AMA, at least in Spain we are almost all with meals relatives this day and at this time.

FRan
➡Dev | Tien Luong: Thank you for your msg
Guys, I know that this is not the right place to looking for mythical land 3ss or 4ss but I seriously looking for mythical land. Who want to sell kindly ping me to make a deal. Thanks you in advance

0908849885
➡Luks007: Come on , here too?
hi everyone Im very exited for the next update, we think Its going to be epic.

I have one suggestion since we are going to need +8 Harvested Basics for super Quest, could u add a filter in pet system breeding option? I cant see very well and its difficult to me to not choose without filters

Repticesor
➡Dev | Tien Luong: you are right, in pet breeding is lacking the filter. but in the short term, you can use factory first. then breed after that.
➡Repticesor: yes, you are right, i do that right now, but we are going to need to separate the +8 harvested Items.
Hello developers the next update looks very good but I think I need to increase the storage a bit because now we must save high quality seeds from each item for the new missions and items harvested by the rest I find it interesting

kacum64
➡Dev | Tien Luong: ok mate, I will follow the game everyday. if storage is problem . we will adjust it
Good morning, i have the same problem, i have two lands, in my account, and its insufficient 400 slots for this 2 lands

iberiano
➡Dev | Tien Luong: yeah you are right. we will find a solution
➡Repticesor: thnx
➡iberiano: thanks! and have a great 2023
This update was very well thought out, thanks for spending so much time before presenting it. I look forward to establishing the new strategies

kacum64
➡Repticesor: Yes, im agree, you do an great work team
In this update, pets become a necessity. How many incubators are available in the game? And when will the rental of incubators come?

kacum64
Happy New Year to all the Wanaka Farm community

Ice Cabbage
Happy New Year Wanaka. It is going to be an excited update. Thank you.

And when are you going to increase the land lvl and release of new seeds?

Luks007
➡Dev | Tien Luong: when we feel the base of the game is stable.
Long live to wanaka team

jorbat
➡Art lead | 3K: just working in progress. but you can take a look @Repticesor
➡Repticesor: JAJAJAJ Niceeeee
➡0908849885: I want it I want it hâhhaha pretty cool
Why I can not drop reaction on the mess ?
➡Art lead | 3K: Let do it
We are trying bring fair for who has many lands in one account

such as more energy, more inventory slots

Dev | Tien Luong
➡0908849885: I bet that very a little member of Wanaka team playing the game. From my point of view, if you treat the project like your child, you should play it and looking for any issues for improvement….
➡kacum64: we would appreciate it very much
I'm preparing to work to earn for this version

MaxVo
➡Dev | Tien Luong: yeah buy wai, wana to upgrade land, buy a land with many seasons.and a immortal pet haha
➡MaxVo: Everything is in my pocket. Just waiting for the releasing moment
Summarize for me what's going on @0908849885

MaxVo
➡0908849885: Moon soon
Hello. When forest land will be available? Thanks

Rubys
JulianR7
Happy New Year!! when will you add new products and move to lev 20, etc. ? are you saying that you will do playful races? . thanks . a beautiful day
Repticesor
I have another observation, could you scramble the requiere Action for example instead 15 Mango Smoothies and 5 harvested Basic Mango, i could be 15 Mango Smoothies and 5 basic corns?
➡Dev | Tien Luong: can you give me the reason?
➡Luks007: I think because of the same argument they had in the English channel, that they will have extra 3* products and won't be able to sell it on wanatrade
➡kacum64: What does corn have to do with Smoothies?
➡Repticesor: Yes, if a farmer can harvest mango he is not going to buy smoothies in thw wannatrade
how much will a forest land cost? I ask to know what money to put aside

JulianR7
➡Dev | Tien Luong: forest land is pending now. we are focus on basic land to make it stable.
➡JulianR7: Thanks
➡Attica: I think that's very good, thank you
You should change a little at the pet combination. I put 3 uncommons and got all uncommons. I have lost too much, this discourages me from doing it. and no one will do that again

JulianR7
➡Dev | Tien Luong: did you clear the formula of the pet combine?
➡Attica: Yes, before it was easy, and now it is very difficult, I think a middle ground is missing
➡Dev | Tien Luong: ok I will follow your problem
It's a known problem since then, now even worse bcoz the percentage in getting lesser to get the higher lvl.

claymore
I really like the upgrade upgrade design!!

Great job!!

Mactom
I combined 3 uncommon soles, I wanted a rare one, and surprisingly, an uncommon one also appeared

JulianR7
➡Dev | Tien Luong: you use a main pet is uncom, then put 3 uncom as ingredients right?
➡JulianR7: yes
➡Dev | Tien Luong: it is impossible , because with 3 uncom , the rate is 100%
➡JulianR7: but it's too much, I'll explain to you, in order to get to a legendary one, I have to sell the house
➡claymore: lol. why would u do that..
sell your car better.
———————————————————————————————————————————————————
For the rest unanswered and flooded questions, please visit:
https://discord.com/channels/869509196935200768/920671801393152010
From 27 Mar 2022, Listen to AMA Content on our Medium Channel