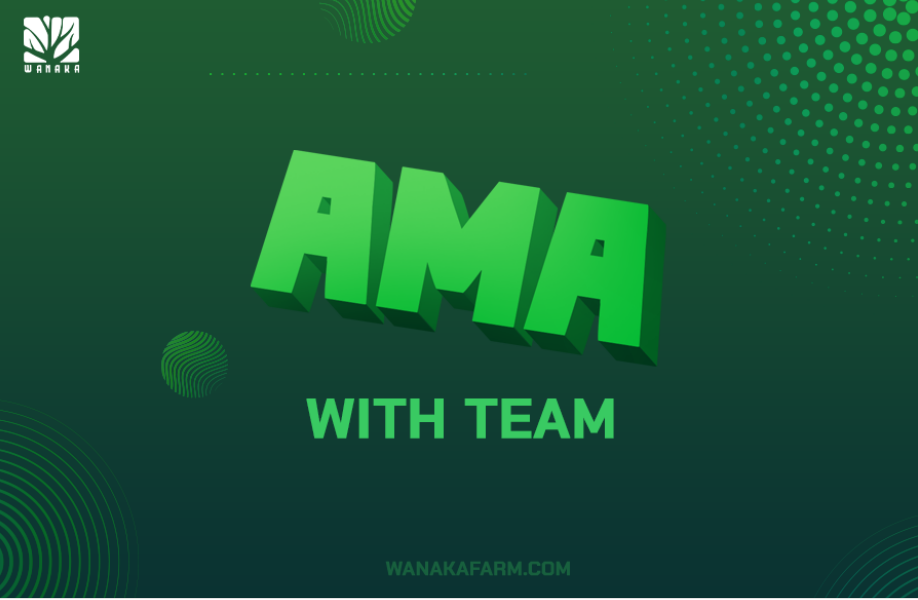 Wanaka Farm AMA
Hello everyone, we are about to open the chat-with-team today session. The topics should be:

1. New update concerns

2. Wanaka Tshirt giveaway

3. Marketplace & staking pools

Content lead | Farmer
Hey guys @all

CEO | Truong Tran
Hello all!

Marketing | Leo Ngo
Hi!

Head of Development | Duc Hoang
Good sunday peoplee!!!

CLUB | DarthAlak
Hello, team and every one have a nice day.

Michel Ortega
Hello team, happy Sunday.

gluk
Hello to all wanaka fans. I am interested in the topic of staking, will it be possible to stake WANA and WAI currencies for a long time, because now long-term staking is blocked. Please, if on the blog you translate into different languages, e.g. German, Portuguese, etc., then also translate into Polish For what they do not know, Poland is a large country in the European Union, bordering on Germany Regards from Poland.

Mactom
→ Art lead | 3K: We will noted about Poland language
→ Marketing | Leo Ngo: Just out of my curiosity, are there many Poland players there ? thanks for your inputs
→ Mactom: Poland 💪
I am happy with new growing items coming to the game but my concern is the inventory space. When will increase inventory space will be introduce?

EeLieEars
→ Art lead | 3K: The new quests of the update will cost you a lot of items to submit.
We have plans for Inventory, but certainly not in this update, possibly the next. There we will launch NFT Building Item Inventory, you can level up the Inventory to increase the number of growing items.
→ Sơn Nguyễn: Thank god u're here :)))
→ EeLieEars: Why not for "NFT Building" have it something to do with Forest Land, With Forest Land, we can grow/collect different type of wood/materials needed for "NFT Building" This way NFT Building will have high price since its not easy to build and there will definitely be demand for it.
Dont make NFT building easy to get and let it grow and expand as time passes.
Good morning, and thank you for being here. The servers are closed now, it says for maintenance. Is the update being released with this maintenance or we still have to wait longer ?

Luks007
→ Dev | Tien Luong: We close for the update. Please wait for a while to get the latest version.
Hello Wanaka team! Do we already have a date for the new update? The Brazilian community is quite large and we had active moderators on all channels, but currently they are all gone, as are the players. Are there any plans to bring them back? I've never stopped playing since launch, I really like the game and I believe in the project! Keep up the work!

Facco
→ Art lead | 3K: We will release New update after maintenance completed.
As you know, the gamefi market is downtrend, so all games are affected collectively, making the community less attractive. But believe me, our project is still developing day and night, giving players more new features. Hopefully by then we'll moon together
Hey there. In the next update feeding and watering are going to be increase? It's annoying when you have to buy 50 by 50

ArturoM
→ CPO | Sang Nguyen: Sorry but it's belong to next update bro
Hi DEVs @CEO | Truong Tran @CTO | Thuan Nguyen, I have a question about the new staking, I have already in stake some WANAs. When you apply the new staking the old staking will move to the new one or how its can work?

CLUB | DarthAlak
→ CTO | Thuan Nguyen: When new pool is released, you have to move the amount from the old pool to the new pool.
→ CLUB | DarthAlak: So the old pools will not removed until all stakers move to the new pools? Is that correct?
What is going on with marketplace V1? How come didnt gave an announcement that it was going to be closed for maintenance? Didn't give us chance to remove items and place them on marketplace V2.

Luks007
What can you tell us about the new forest lands?

TheBunnyRod🦅
→ CPO | Sang Nguyen: We're trying to give you guys forest land's information in this month.
→ Art lead | 3K: I think this June there will be a draft of a basic introduction to the working mechanism of Forest Land.
Question. Have you had any idea about how to make possible to exchange wai to wana in game? Or maybe no in game but faster than now?

ArturoM
Would it be possible to put the same item filter that exists in the inventory for the breed?

Facco
→ CPO | Sang Nguyen: noted
→ Art lead | 3K: noted that. maybe we will fix after v.1.1.1
Can tell us something about the Tshirt giveaway?

CLUB | DarthAlak
→ Content lead | Farmer: We want to execute it in many countries, However we want to find some ambassadors to help us deliver it in the domestic. We will soon launch the announcement for recruiting the 'helpers'
We will be able to see soon in the testnet network, how is the wanatown? I want to see it. I think it's a great job.

gluk
→ Art lead | 3K: Wanatown you can check sneak peek channel
→ CPO | Sang Nguyen: Ya, soon you will see under developing features in the testnet
Could you please add in marketplace a value of how many ponds or slots of water does a land have? this is very important as well as showing how much EXP erience have a land, this is critical for buying and selling lands, do you have plan to add this?

iguanna
→ Dev | Hieu Nguyen: Noted
Could you tell us what is the % of taking out the items that are not guaranteed such as milk, cheese, orange peel, etc.

TheBunnyRod🦅
→ Content lead | Farmer: You can check the wiki, we note the possibility of 30% for secondary ingredient
Why is your threshold for making a vote proposal so absurd high? 80k WP needed to submit a proposal is way too high and at this point only 3 entities that have voted before have that amount of WP. That is not decentralised at all but in fact the opposite so the thing you call a DAO is not a DAO at all.

Tola [BlockRaiders GG]
→ Content lead | Farmer: It's the rule we already considered. You can create DAO proposal if you meet the rule, we are not limitting anyone by title or relationships to the dev.
→ Marketing | Leo Ngo: There are a substantial amount of holders are able to make a proposal. We want to make sure people who are serious and have total confidence in project could make one. Imagine, If anyone could make proposal that could affect/derail our entire work that we've been working on, that would be a disaster for the dev team. In near future we shall lower the WP required. Cheers
→ Tola [BlockRaiders GG]: I understand what you mean but if there are a substantial amount of holders that are able to make a proposal why aren't they actively participating in the voting itself? That's just the whole point and function of a DAO that the community can make proposals and it is up to the majority of the community to vote yes or no. If the proposal is bad then the community would vote against it especially with the substantial amount of 80k WP holders.
Limiting the possibility to make a proposal to only the people with the biggest wallets that most likely aren't even interested in the game itself or play it could even be bad for the future of the game as people with good idea's that could really help the game and improve it are being ignored in favour of people who don't care about the game what so ever or even contribute to it.
Also if you are worried that there will be proposals passed that doesn't hold up to your opinions as devs you just don't use the word DAO but call it a normal community vote because how it is now the DAO is just a fake, a buzz word without meaning.
→ Content lead | Farmer: We respect your point of view. Anyway the rules for DAO is not finalized yet, as you can see. we will think about the feasibily of DAO for everyone later.
→ iguanna: We should have a voice if we have full house of 4 lands in our account, and that will make to sold out all common and uncommon quickly and be more attractive to invest
→ Tola [BlockRaiders GG]: Thank you! I'm here and playing the game since day 1 so i am 100% serious about this game as well and i want it to succeed as like probably many others that are below the threshold. I just don't have the funds to meet that threshold you set while that threshold doesn't even guarantee that the holders that are above are meeting your requirement of 100% serious and total confidence but are most likely just speculators with too much money. My assumption is that majority of the 80k WP holders won't meet those requirements as otherwise they would have voted in the proposals that took place already.
→ Marketing | Leo Ngo: That's why we're still taking in many ideas and suggestions into account from these "chat with team". We're all participating in Wanaka Dao without necessarily knowing it 😄
With the new update can we buy more than 50 watering/feending in the Shop?

Jeshmond
→ Art lead | 3K: We have plan, will update after v.1.1.1
About the new update can you explain a little more what do every item? e.g the energy gained etc.

CLUB | DarthAlak
Hmmm i dont see any description of what the new production items? do they give energy or are they just items requirement for quest?

EeLieEars
→ Content lead | Farmer: For now, the new product items launched this time only for the Quest purpose
Will the forest land be sold by WANA? And do you have any idea how much it will cost? I need to start saving my coins, heh

Facco
→ CEO | Truong Tran: We are developing forest land, it's intereting. But at this time we are not allowed to announce the selling price, thanks for your question, I hope you contrinue support us
→ Marketing | Leo Ngo: https://twitter.com/rpnickson/status/1478414562764509199?s=21&t=5y1ipeuwhnCijMz_ROETtg
Some predictions caught my eyes on CT, NFT gaming may be in a downtrend of a first wave. Wanaka will make sure we'll still be here for the next wave.
It would be interesting to create an NFT item that was useful for the game and that needed to play a lot to create it, farming the materials to create it. I would value people who actually play the game, not people who just want to suck up the economy or have a lot of money to buy items and resell.

Facco
→ EeLieEars: Yes to this and i hope they will implement this for NFT buildings in Wana Town etc
→ CLUB | DarthAlak: Yes I'm agree with that point!! Maybe will be a good idea add some NFT that they improve the LANDs and/or the PETs significantly and they will be difficult to craft. In that way more people going to reinvest and add more objectives to the game. @Dev | Hieu Nguyen @Art lead | 3K @CEO | Truong Tran
I agree, we need more incentives to play and fun, not just nft sales. Waiting for the return of the themed events that for me was fun so just create decorative items.

TheBunnyRod🦅
→ CPO | Sang Nguyen: Let's Wanaka to be a place where both fun and profit can be made
About the staking pools, what will be the different with the old ones? more APR? more benefits? @CTO | Thuan Nguyen

CLUB | DarthAlak
→ CTO | Thuan Nguyen: Some logic will be changing in the new staking pool.
→ CLUB | DarthAlak: For which month is the new stacking estimated?
→ CTO | Thuan Nguyen: May in this month, will be checking with the dev team.
Hi team can you tell us what is the plan with marketplace? how long will V1 be close? will you merge V1 and V2?

Rhonald
→ Dev | Hieu Nguyen: Marketplace v1 will end maintenance tomorrow. No plan to merge marketplace v1 and v2
Hi all! good morning from argentina!.. interestings answers so far.

HexOldSchool (Darwin)
Increase the inventory as soon as possible, I only have the essentials in my inventory, I plant and sell, but I do not have room for the new items. There are 12 items in total, with all its elements, there is not room in the inventory for everything. I can't plant the new items.

gluk
→ Marketing | Leo Ngo: We're about to wrap things up here in minute.
Can you confirm that we are able to have one account per land?

iguanna
→ Content lead | Farmer: You can play whatever way effective you want.
→ CPO | Sang Nguyen: Enjoy new update guys thank you for being here
Have a nice Sunday everybody!! thanks for you time DEVs!

CLUB | DarthAlak
Again thanks for your answers Have a great weekend guys and take care!

Tola [BlockRaiders GG]
Thank you everyone for tonight~ Please be waited for the release soon~

Content lead | Farmer
Thank you team! Awesome master piece you are building

iguanna
Concerns about the Staking and Marketplaces are noted, For marketplace: we will try to bring back the V1 so you guys can unlist the items and sell it on V2. For the future, we dont keep the V1, Please try to move your assets. Thank you.

Content lead | Farmer
**************************
For the rest unanswered and flooded questions, please visit:
https://discord.com/channels/869509196935200768/920671801393152010
From 27 Mar 2022, Listen to AMA Content on our Medium Channel