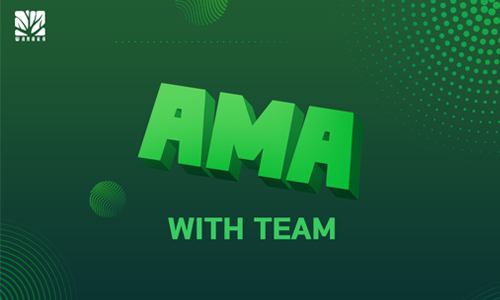 Hello farmers, special notice: due to peak time near holiday Viet Nam Independence Day. Today AMA will last 1hr only. Prepare your question and your concerns. 🙏😅🕑

Content lead | Farmer
Hi everyone, welcome to the chat-with-team today.

CTO | Thuan Nguyen
When Wanatown, battle pet, mini games, forest land and all the other promises made so long ago to the community?

T.P.A | Ozaru
→ Content lead | Farmer: We are working on the Free user flow to adapt the traditional app store.
→ T.P.A | Ozaru: Excellent but I don't know if they can continue to buy time being vague about the dates, they have to change the approach, look at the number of token holders and they will see why they have to do it.
→ Content lead | Farmer: As you can see, we are changing the UI to make it more appealing. And date & schedule is another consideration because of the timing vs market situation.
Yet to mention, we need time to measure the economy after update and cross check the Forest land design.
Good day, have a good holiday in your Independence Day celebration.

Attica
Hello Devs hello community, I hope you are having a good time!

Mod | MrTamagochi
Hello team, have all a wonderful day. Soooo when do you think you could release the documents for the forest land? Thank you!

Luks007
→ Content lead | Farmer: It would be around Sep.
→ Luks007: Could it be after your holiday? 🤩🥺
→ Content lead | Farmer: Yeah, it is.
→ Luks007: 🚀🚀 Thats a great news, dont you think @T.P.A | Ozaru?
💗

0908849885
Hello everyone!

Dev | Tien Luong
Hello team greetings from Cuba!

Michel Ortega
What news will we have soon?

Attica
→ Content lead | Farmer: It is the forest land doc.
→ T.P.A | Ozaru: Could you define "soon" please, in the past they used that term to refer to things that took months longer, in Spanish speaking months are never soon, that's why I respectfully ask you to define what "soon" would be…And if your concern is the market, shouldn't you stop being so hermetic? eventually the tightness together with the delays is going to charge the market very dearly, check with any investor in the community, they have run out of patience.
→ Attica: I am any investor in the community. It is better to wait and do it at the right time. Not all investors think the same.
→ Content lead | Farmer: All our partners are slowing down too.
→ T.P.A | Ozaru: Would the right time be? if you are not worried about having certainties you are not investing you are playing, sorry but life is like that some think that it is a game what others see as their job and I see the metaverse as my job that's why I need you to be precise, I'm glad for you can wait any amount of time but it is not my case that is why I repeat, I need certainties.
→ Content lead | Farmer: Attacking the other people is not the acceptable way.
→ T.P.A | Ozaru: Explaining to someone why he is a player and not an investor is not attacking him…neither are players by nature worse people nor are investors better by nature…they are simply different types of people dedicating their efforts to different ends…but confusing the terms would lead the metaverse to kaos…for example making people think that roadmap are drawings on a colorful screen instead of industrial promises my friend…it is a constructive criticism of your words hopefully take it as such.
→ Content lead | Farmer: I see your point, but the roadmap is a tentative plan we draw at the beginning, while market changes every day, we cannot always stick to a fixed plan, but general direction is maintained, please rest assured.
→ Mod | MrTamagochi: Are you sure? How do you know that she has not made a direct investment with us and that is why she is here in Wanaka, can you prove that she is not an investor? Focus on asking questions to the development team that is the objective of this room.
→ T.P.A | Ozaru: The security of the neighbor decreases as the neighbor does not meet the expectations that I intentionally raise, especially when that expectation generated a profit for the neighbor himself… think about it, I am not talking about my way of deciding, but about the way of deciding of the investors…. thought of doing a survey to find out what investors think?
Hey guys. In Holiday vacation we don't forget dating time with you, cause it's happiness 💯💯💯💯💯💯💯💯💯

CEO | Truong Tran
Well, the whole team Wanaka is on their team building and they still online for chatting with team. Respect!

0908849885
Hi guys greetings from Venezuela!

Raikel
Hi guys!

Art lead | 3K
Good team, I hope you have a happy Sunday! Do we plan any updates soon?

TheBunnyRod
→ Art lead | 3K: After holiday we have small update, after that a big update Hope all update in Sept.
→ T.P.A | Ozaru: could you give more information about the big update??? Will it include new uses for lands, wana or wai? and which day the hollyday finish?
→ Art lead | 3K: Big update regarding building system, upgrade gameplay to pass request appstore when we are trying release game on App. I think
→ Content lead | Farmer: Holiday? It is 1-4 sep.
Would it be possible for the pets to put the huk and baner?

Attica
→ Art lead | 3K: @Dev | Tien Luong considers it pls!
The rewards and quest will be modified? Because their items like horn, plaice bone and peels that only works for daily's, it should be worth for something more like soup corn for example.

Raikel
→ Art lead | 3K: I told you about ingredient item, product item in quest Please check in on next week @Dev | Tien Luong.
→ Content lead | Farmer: Measuring all the actions & simulation after the ingredients fusion mode released.
It would be a good idea for the use of the DAO by the development team to be more motivated. We have that great function in this project, and it is somewhat forgotten @Content lead | Farm

TheBunnyRod
→ Content lead | Farmer: DAO needs more supportive tools to moderate the democracy. Only blockchain tool cannot serve well, while we need to focus the resource on the gaming experience. Anw it is a nice concern.
What possibility can be than dailies and weekly's rewards can up and down randomly? I mean some days give a random product 140 and some days give 160 wais, not only always 150, sometime less sometimes more for weekly's too, it should be more active WT, I think.

Raikel
→ Dev | Tien Luong: That is good idea, thanks!
We upgrade building system at the moment. When get done i think we will release more building item include decoration elements.

Art lead | 3K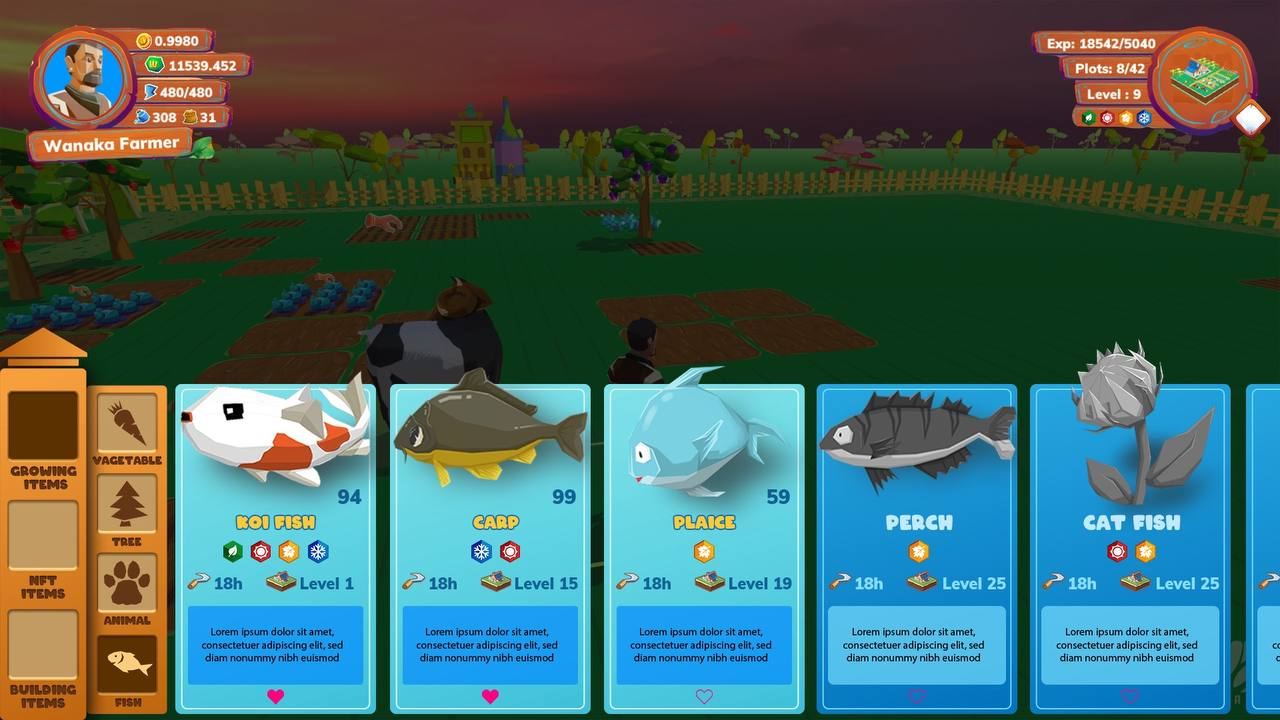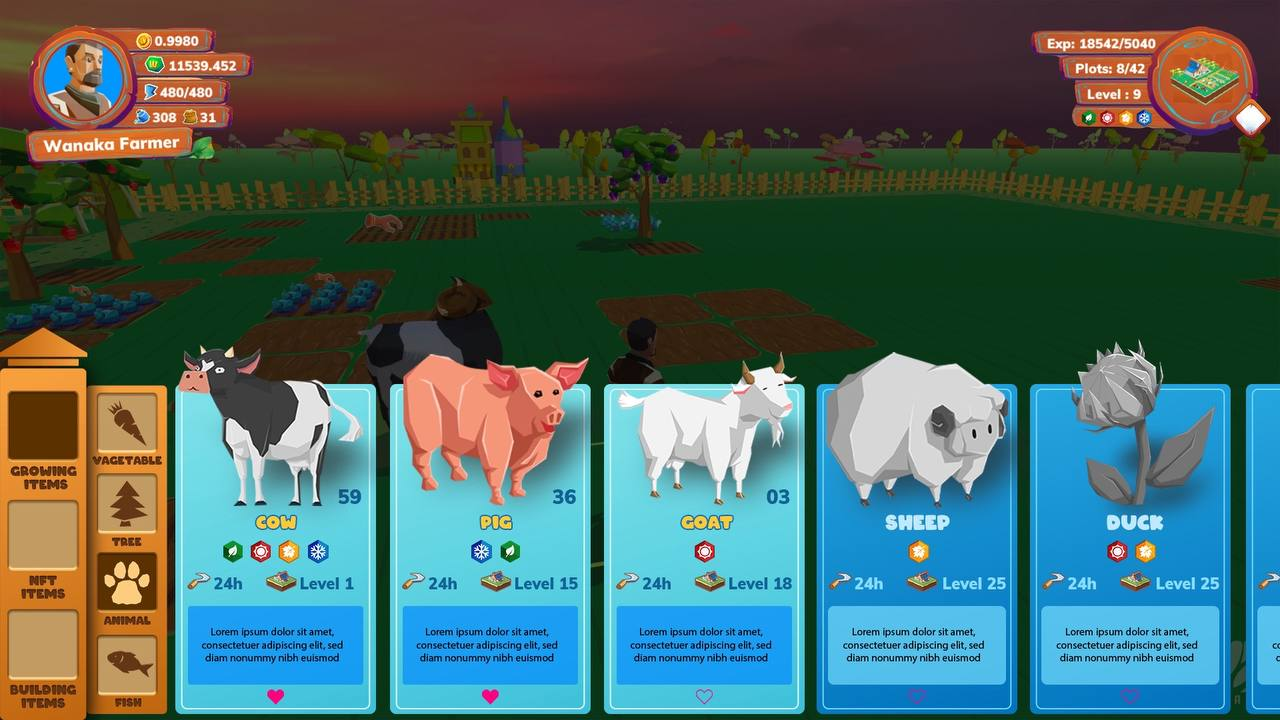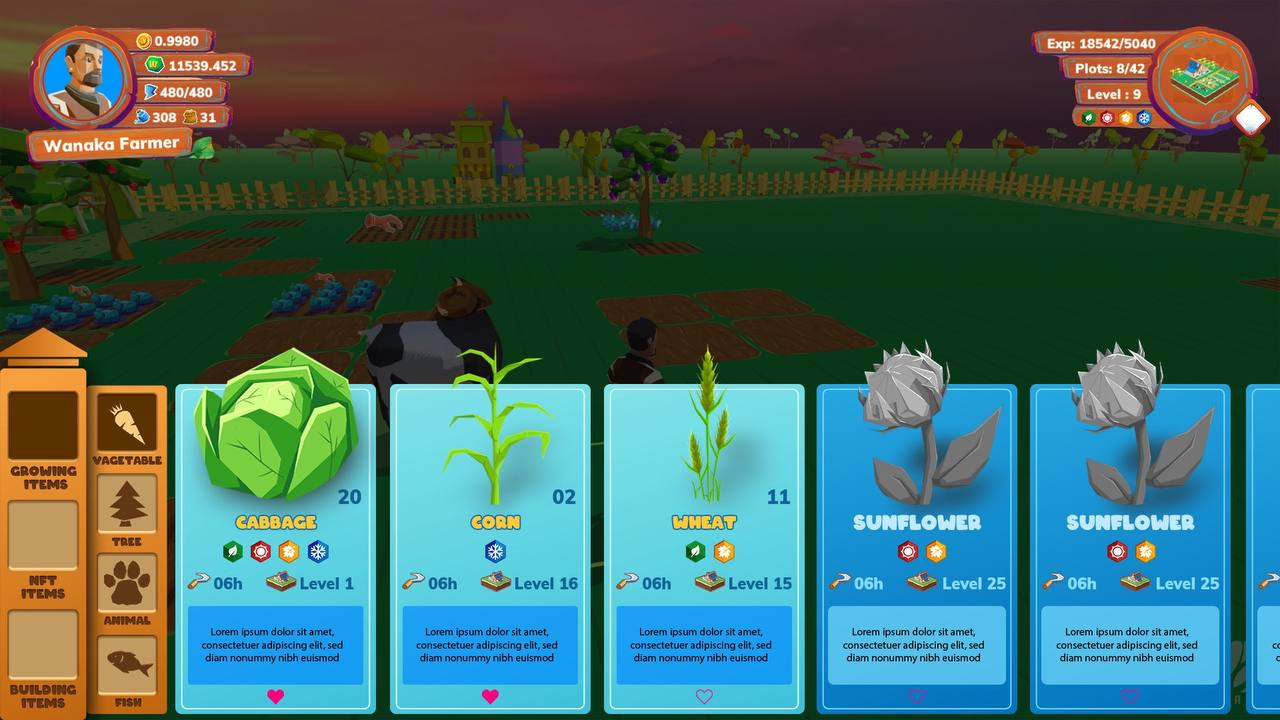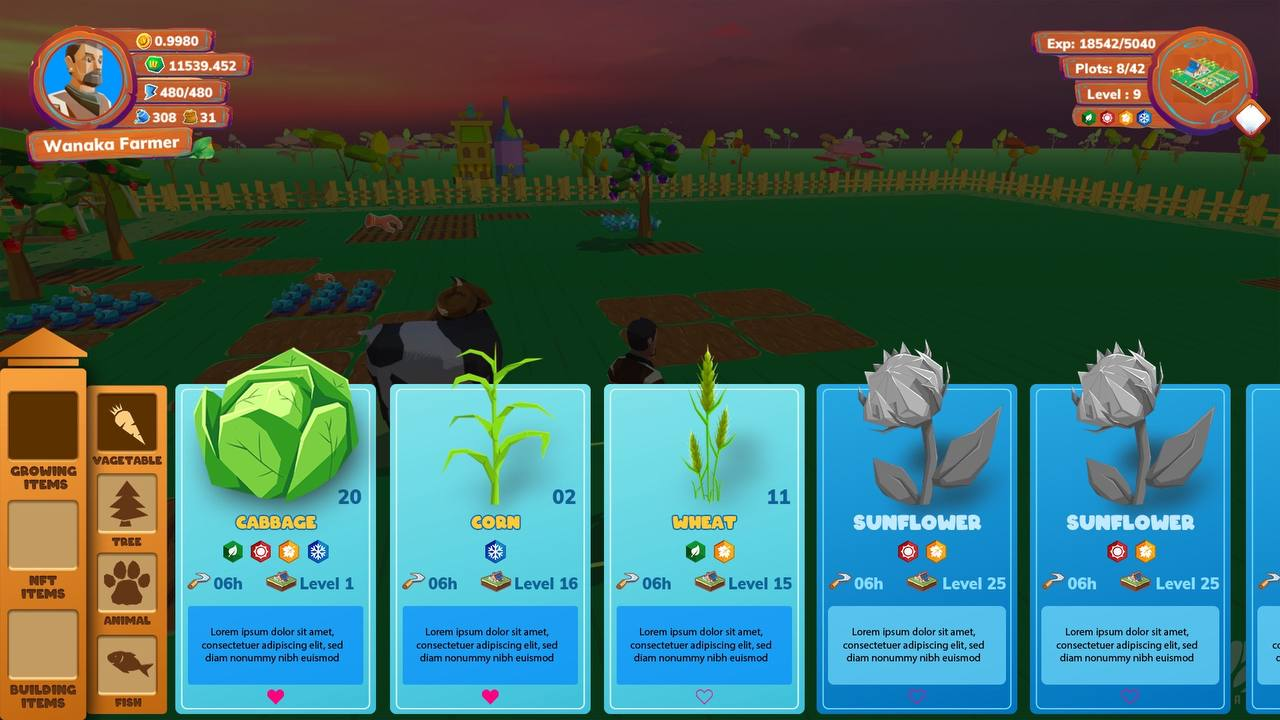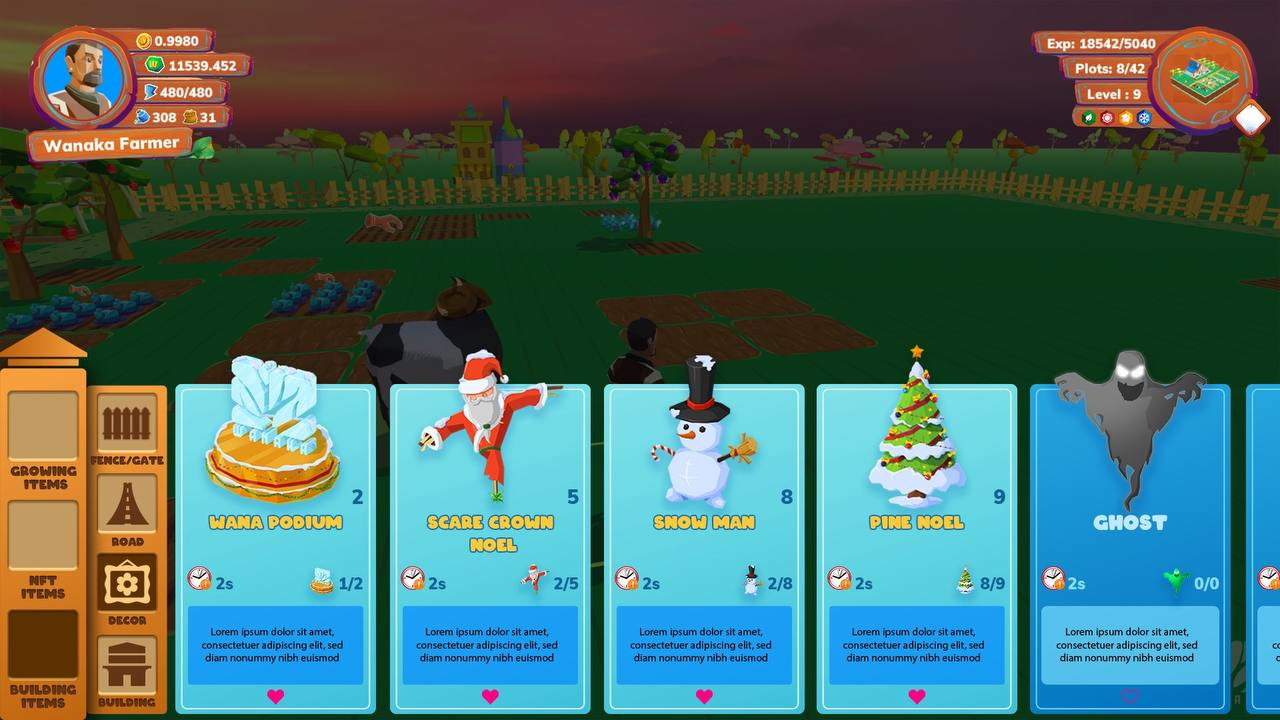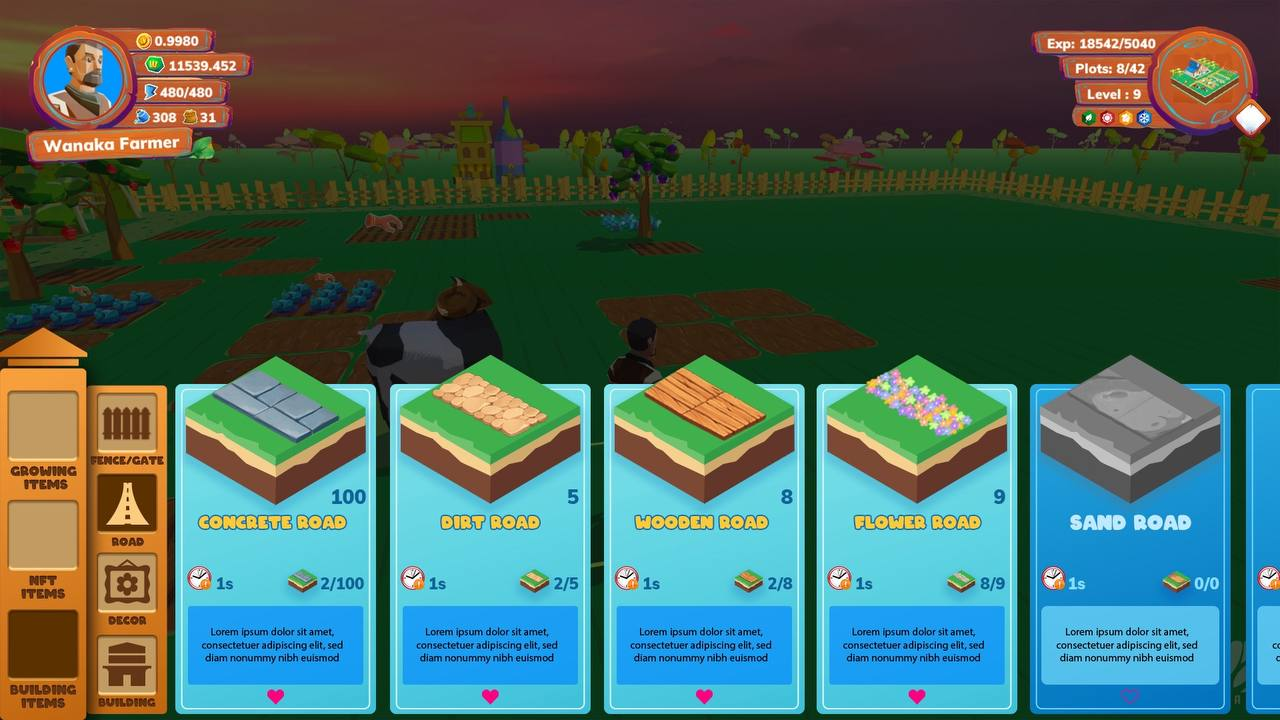 → Art lead | 3K: Which this system you guys save alot time when trying put something on your land like growing item or building item.
→ zekecuba: Congratulations for your designs, as always beautiful and impressive and the new UI has delighted me. My respects and thanks to the entire design team. And happy holidays to all.
This has been asked for a lot and it is necessary when we can have a notification system when I sell something on the wanatrade @Art lead | 3K 🥺🥺

TheBunnyRod
→ Art lead | 3K: Hey @Dev | Tien Luong About notification in game, should be done soon man
→ Art lead | 3K: Not only wanatrade.
Communication between us within the game? @Art lead | 3K

Attica
→ Art lead | 3K: You mean chat system?
→ Attica: I wish I could send a direct message to the owner of a land. I love the ghost!!!!!!
→ Dev | Tien Luong: Yeah, we will make it. Promise.
Another thing is the communication system with tenants / landlords to be able to negotiate some offer price, I also want to add that it would be good if after finishing a contract it is not deleted it is saved in a kind of draft to be able to put it on instant rent.

TheBunnyRod
→ Content lead | Farmer: Communication is a big decision as we would have more channels/friends/relationship management, please give us more time.
Oh my 3K. you're killing us softly

0908849885
May I ask who is the neighbor? the security of the neighbor?

Content lead | Farmer
🥳 @Art lead | 3K

JG
Thank you, Wanaka team, to spend some time with us today even though many of you are on vacation. Wanaka Farm has been making tremendous progress so far. We believe in what you are doing. Keep up the good work!

WanakaFarmer
→ Content lead | Farmer: Thank you a lot. I wanna hear more feedback after the ingredient fusion update. Is it helpful? Too cheap or too expensive?
→ WanakaFarmer: It's just a little piece of the puzzle. Some people may use that function, but I don't use it very often. I don't think it's too important. It's helpful to have it though.
→ Content lead | Farmer: Great, so i count it as 'neutral' feedback.
Great job, friend, you're a genius @Art lead | 3K I still dream of my rabbits 🥺😅

TheBunnyRod
→ Art lead | 3K: I think rabbit love forest land
Nice job buddy's all these looks so great!!! I think after this all images all autumn lands up the price haha 🤣

Raikel
→ Art lead | 3K: Just mockup when i design. Lmao
Will it let us place more than 4 lands in the map?

JG
Late as always, LOL. Greetings to all the players and much love to the entire Wanaka team!!

zekecuba
→ Content lead | Farmer: I would be always waiting for ya 🤩👏
Guys, by the way, we will release the update regarding GameFi's birthday event. Please join them to show Wanaka Farm's community power. We are joining our future partner as a supportive hand. 😁🥰

Content lead | Farmer
Ok see you guys I think too much sneak peek today 😆😆

Art lead | 3K
Good night, thank you!

Attica
→ Content lead | Farmer: thanks for always be here, Ms Attica
Can i close the chat?
Have a good vacation, enjoy a lot.

TheBunnyRod
I find myself super impatient with the anticipation of the new vision of the forest lands. You said you were almost ready to release it, right?

zekecuba
→ Content lead | Farmer: It is releasing about the concept/design. lol
Happy holiday I have to pack st.

Art lead | 3K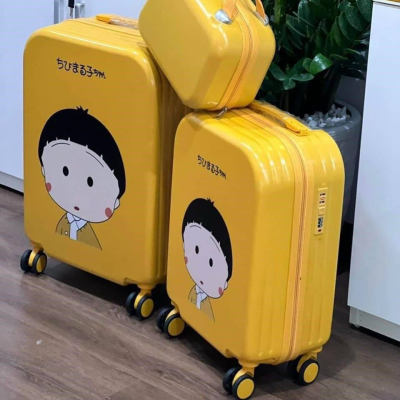 We have around some minutes left. We want to say thank to all of you who always wait for us. Today is not a happy day for BTC but a good day for Wanaka Farm team, indeed

Love you 3000

Content lead | Farmer
Thanks buddy's have a great day Wanaka team and all farmers.

Raikel
See you all in September!

WanakaFarmer
Dont forget to join Chat-with-3K if you want https://discord.gg/NTFENa3 I will close now. Have a great Sunday!

Content lead | Farmer
**************************
For the rest unanswered and flooded questions, please visit:
https://discord.com/channels/869509196935200768/920671801393152010
From 27 Mar 2022, Listen to AMA Content on our Medium Channel