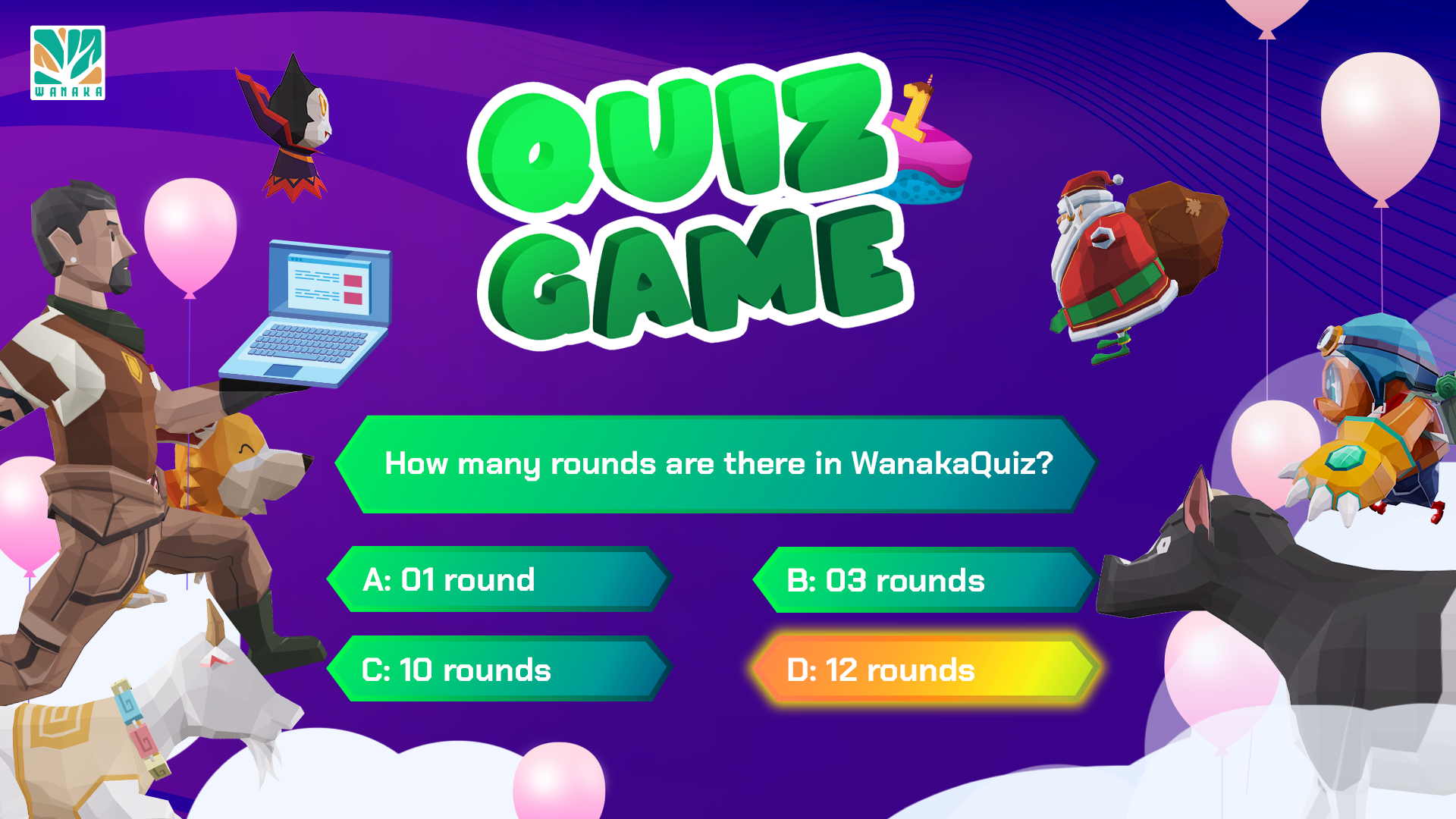 For introduction about the quiz event, Please check this blog article: https://blog.wanakafarm.com/wanaka-farm-01-year-wanakaquiz-launching/
WanakaQuiz format
WanakaQuiz contest is a Quiz serie includes several questions related to the economy, cryptocurrency knowledge and 20% of them are about the Wanaka Farm game. (If you are new to Wanaka Farm, just to study our wiki available at https://wiki.wanakafarm.com completely, and that's more than enough for you to complete all the answer related to Wanaka Farm game).
The contestants need to choose the (most) correct 01 answer out of 04 per question. The WanakaQuiz which will be open from Oct 24th, 2022 13 UTC for preparation, at https://quiz.wanakafarm.com.
Important notes:
The Quiz will run in

3 days

. Each day consists of

4 rounds

(

10 questions

each round). Each round will have

6hrs interval

.
How to win: Contestant with

highest qty of correct answers

will win.
How to join: The users will go to web game at https://quiz.wanakafarm.com to attend (check our timers carefully!) and play the quizzes.
Other requirements on the Competition: Do the referrals to unlock your all 12 slots to join and complete as many questions as you can!
WanakaQuiz Prize Scheme

Participants with most correct answers will win the prizes, which include Wanaka Farm NFTs, $WANA and $BUSD like above table. In case we have tiebreakers the winner(s) will be who are faster to complete the quiz in general.
Totally, there will be 89 winners in total to get the 05 level of prizes like above table. Entrance fee for 01 wallet is 100 $WANA.
The opening time & quiz contents are all fixed and stay the same content for any participants world wide. If you miss 01 round, you cannot re-join and will totally miss that round.
(Seriously, If you plan to play it with more than one account(s), be sure you have enough devices and people).
WanakaQuiz Referral Scheme
The competition will be fully unlocked in 12 rounds, throughout 72 hours, divided into 3 sessions x 24 hours. However, one participant will be accessible to only the 01st round of each session. In order to be eligible for all 12 rounds, you need to do the referrals to other people to unlock more rounds per session.
Referral & entrance mechanism
We have 03 levels of referral to unlock all the 12 rounds.
Round 1, 5, 9, 11, 12 – all contestants can join.
Round 2, 6, 10 – contestants with 1 referral can join.
Round 3, 7 – contestants with 3 referrals can join.
Round 4, 8 – contestants with 6 referrals can join.
Referral means inviting someone to join this quiz (they need to be first time log in with Metamask and pay 100 $WANA joining successfully).
Note: Round 11 and 12 are open for all, but only accessible to the top 20% players on the leaderboard coming from the results of Round 1 to Round 10.
Quiz opening details
Contest starting time:
The time to open all 04 rounds in one session is: 13 UTC – 19 UTC – 01 UTC – 07 UTC
For Example: the Round 01 opens at 25 Oct 2022 13 UTC, Round 02 at 25 Oct 2022 19 UTC and so on.
With that logic and the time table, Final round Round 12 will be open at 28 Oct 2022 07 UTC, and also the last round to finish the contest.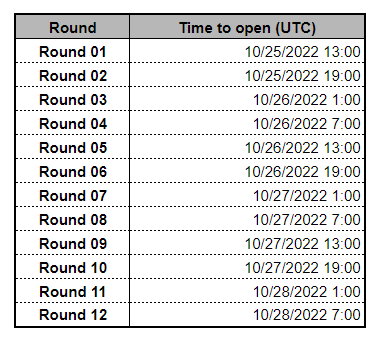 Referral starting time:
We let the participants be ready 24 hours before the main competition to do the referrals and unlock their full potential. Check account page in https://quiz.wanakafarm.com to get your referral link.
Quizzes difficulty notice
The first 10 Rounds will open normally, Time for each question is 30s.
There are 02 Special Rounds 11 and 12 that only unlock for top 20% participants with highest scores on the leaderboard.
Difficulty level: Round 11 & 12: 45s/question
Thank you for being with us throughout a long journey. Come join this anniversary event with us at: https://quiz.wanakafarm.com
FAQs
Q: Can I play more than 01 account?
A: You can, we dont prohibit. But the Questions will be live, once it is over, it is over. You cannot re-join
Q: Can I change the answer?
A: Yes you can, before the timer per each question runs out.
Q: What if I miss the time for the test?
A: There's no way you can go back to that round to complete it. Be careful to set your reminder and prepare better for the next round!